Focus: National School Meals Week

Dec 10, 2021
This annual event may have been curved by Covid once again, but it was still regarded as having been a huge success...
National Schools Meals Week (NSMW) 2021, which was organised by LACA – The School Food People and ran from 8th to 12th November, has been seen as being a great success by many in the industry. Following a difficult 18 months, LACA was determined to provide a campaign that would inspire the imagination of all involved, be flexible enough for those who wished to to get involved and, of course, be a platform for positive school food news.
Sadly, many school caterers are not back to service as usual and continue to find the situation difficult with staffing issues, supply problems and ongoing school Covid restrictions. However, NSMW has been a popular event in schools for more than 30 years, and this year wasn't to be any different.
New for 2021, LACA introduced The School Trucker Trial, coinciding with the time of year when the popular TV programme I'm A Celebrity… Get Me Out Of Here is launched. The campaign was designed to remind all stakeholders that school lunches are nutritious, to be enjoyed and that lunchtimes are fun. In addition, LACA was keen to enable members to promote some of the other great messages they wanted to communicate around menus, food quality, nutritional content and reduced carbon footprint to the widest audience possible.
The Week was launched with a video message from the chair of LACA, Jacquie Blake. She said: "It was brilliant to see so many people getting involved in National School Meals Week 2021. We were delighted with the support LACA received throughout the Week, from catering providers and the frontline teams, through to food suppliers and MPs.
The School Tucker Trial saw more children getting back to eating hot school lunches, which is important for recovery from the pandemic, as we know that for some children it is their only hot meal of the day. Throughout the Week, children enjoyed more plant-based dishes, as well as locally sourced produce, which not only has a positive impact on heath but on the environment too. The Week was a huge success, thank you to everyone who supported us."
Many schools, academies, catering organisations, suppliers and supporters of the education catering industry got involved during the Week. These included The Soil Association, ProVeg UK, Sugarwise, Love British Food, and many more. 
Important conversations took place during the week, as MPs and councillors across the country took part by showing their support to catering providers in their constituencies, be it on social media or in person. Sharon Hodgson MP, a great ambassador for the service, rallied the call for support from her ministerial colleagues, resulting in school visits from numerous MPs, some taking the opportunity to help out in the kitchen.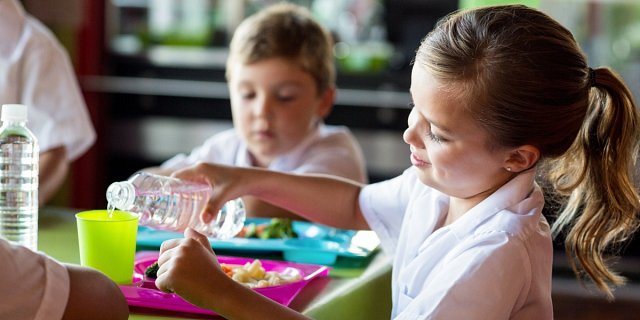 Of course, it is important that MPs know just how good today's school food really is and the benefits for those children who have a nutritious, two-course lunch in the middle of the school day to their health and well-being. There are more MP and VIP visits planned in schools post-NSMW, so if you want to invite your local MP and need any help, contact [email protected].
During NSMW, the aforementioned School Tucker Trial was used in many different ways by school caterers. These ranged from new menu launches to tasting sessions; providing the chance to try new and innovative dishes to looking at ingredients in an educational setting; and generally to engage with pupils to try new dishes. It was great to see many major foodservice companies working in secondary schools to launch new food products and concepts, to encourage students to step outside their comfort zone and try new dishes, including vegan and plant-based products.
As part of the Week there were five themed events, each focusing on an important part of the school food message, enabling operators to select whichever theme day they felt would work best for them. Some chose one or two, others ran the full Week's activities.
Mix it up Monday and Plant-Based Power Thursday saw children from across the country eating an array of meat-free products, as caterers were encouraged to replace meals with plant based dishes in order to make a positive impact on the environment. Children expressed how good they tasted and said they were likely to choose plant-based food more often. ProVeg UK supported the event and provided hints and tips on how to make such menu items appealing to pupils. Social media was awash with brightly coloured, mouth-watering vegetarian and vegan dishes.
A popular midweek special is Roast Dinner Day, and once again we saw menus filled with British and local produce. Thousands of kilos of potatoes were washed, peeled, roasted and enjoyed. Schools from across the UK showcased their talents and the event was supported by organisations such as the National Farmers Union, the Soil Association and many British food suppliers.
The School Food Challenge and Food for Fuel days highlighted the importance of school food to aid learning and development and, in many schools, was used as a way of teaching students where their meals come from. The creativity shown by school caterers was amazing.
With some restrictions still being in place, the event was not able to get on the road again this year, so a virtual tour of the UK took place. It showcased some of the very best school catering providers have to offer. The tour 'visited' Devon, where recipes were provided by Hugh Fearnley-Whittingstall, before moving on to Hampshire where Kraft Heinz equipped older students with meal ideas for when they go off to college and university. It then went up to North Yorkshire, where suppliers set up stands to encourage pupils to trial unusual ingredients.
Although NSMW is over, its not too late to have fun and use the free resources. You can still get involved by visiting www.nsmw.org.uk and supporting the event on Twitter @NSMW and Facebook @nationalschoolmealsweek. You can follow all the news and events that took place and see the gallery too.
LACA continues to provide resources long after NSMW has ended. These are not just specific NSMW resources, but there are other promotional ideas for a number of popular events in the calendar too. LACA knows that running regular events increases uptake and also adds value to the lunchtime service. Visit the above website for more information. Resources are available in English and Welsh.  
The organisers would like to say thanks to everyone who supported this year's NSMW. Details about what's happening in 2022 will be available in the new year.
You may also be interested in…