Boosting soft drinks sales
We recently launched a new project with Lucozade Ribena Suntory, demonstrating quick and easy steps B&I businesses can take to increase their soft drink sales

Nov 2, 2018
B&I and Lucozade Ribena Suntory (LRS) implemented a new joint project, to demonstrate how to improve sales of soft drinks in the business and industry channel. The move came after LRS, one of the UK's leading soft drink manufacturers, emphasised the importance of range and space, and utilising big brands and consumer choice, when stocking your chiller.
With the packaged soft drinks category worth over £506m1 to the workplace catering sector, and the fact that, on average, an outlet can make £12,9002 per year from these products, it's clearly an important part of any offering – and one you want to get right. LRS reveals the availability of a favourite soft drink is the number one sales driver in the out of home channel3, with consumers stating that the quality and visibility of a brand are also key in the purchasing decision.
To demonstrate this, LRS decided to partner with a B&I outlet to show that this information can be turned into profits when put into practice in a staff canteen. They collaborated with the outlet over a four-week trial period, working alongside them to review their chiller and advise on small, simple changes that can increase sales.
We quickly found the perfect partner in our friends at Just Hospitality. The London-based caterer kindly agreed to let us host the project at a contract it has with a high-profile media company, providing food and drink for approximately 300 employees. There is no high street in the vicinity, Just Hospitality's general manager for the west London-based site, Debbie Field, told us, and the main competition comes from a nearby Tesco that houses a Costa Coffee.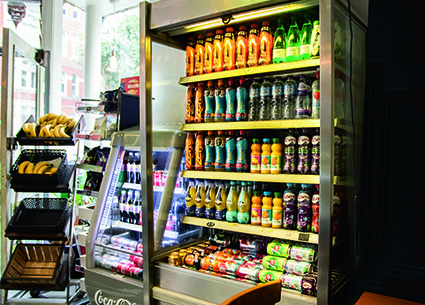 As we sat down to discuss the project, Field said: "The soft drinks, in the year we have been working here, have been a very slow mover. This is partly because we have a free coffee and tea offer right next to the chiller.
"Since the contract began, though, this has slowly improved and sales have increased. We just need to find the right balance."
John Rumble, Head of Commercial Strategy & Execution for LRS, explained. "The basis of a good range in an office café includes category leaders such as Lucozade Energy and Ribena. Stocking recognisable brands shows visitors their favourite drinks are available and encourages impulse purchases on the go or when buying food. Ensure leading flavours, Lucozade Energy Orange and Ribena Blackcurrant, are always available for consumers to pick up as they grab their breakfast and lunch.
"Lunch is the key occasion for drinking soft drinks within the workplace4. Operators should ensure their chillers are tidy and fully stocked at this important time of day to encourage impulse purchase from those not planning to buy a soft drink with their food. However, operators should also take the opportunity to drive awareness and relevance during other times of day such as breakfast and afternoon snacking by stocking a range of brands suited to different occasions.
"Finally, the ongoing consumer trend towards healthier options is absolutely prevalent with 66%5 of soft drink consumers agreeing they'd like to see a healthier range on offer, so it's vital that lower sugar alternatives are included in the chiller. In fact, low calorie soft drinks are growing at 3.4%6 across the foodservice channel, highlighting the opportunity for workplace operators to capitalise on this trend."
Rumble and his team from LRS quickly got to work, making the chiller look much neater, more presentable, and, crucially, easier to navigate quickly. Once he'd finished, he explained: "The visibility will help speed up decision-making. It helps maintain availability; you're busy enough, so you won't have to spend as much time topping up. And if customers can find what they are looking for, sales should increase by about 25%."
LRS tell us that some 35% of consumers who have a canteen or café in the workplace have chosen not to use the facility in the last three months7, but that those who rate the quality of the soft drinks on offer as being 'good' are 2.35×8 more likely to return. This means the prospects are good for Just Hospitality following the expert work undertaken by LRS's team and their client should see a significant uplift in sales. Check back next month when we will revisit to see how Field's business has fared since LRSs' support.
The magic number
The three key principles that lead to an effective layout and flow in the chiller:
1. Always stock the best-selling brands and try to include two facings for the biggest SKUs – these will catch your customers' attention
2. Group similar products together so shoppers can easily navigate the range and include low and no sugar variants alongside their core equivalents to encourage trial
3. Vertically block the layout as this matches how customers view a range, and cuts search time by 40%
1

CGA

Foodservice measurement

MAT

to 31/07/18
2

CGA

Foodservice measurement

MAT

to 30/06/18
3

CGA

Brand track
4 Kantar Worldpanel Usage | 52 weeks ending August 2017 |

OOH

|

OCCAS

%
5

CGA

BrandTrack February 2017
6

CGA

Strategy Food Service Measurement data to 31/07/18
7 Mintel Report Contract Catering Dec 2017
8

CGA

Out of Home measurement

MAT

to 31/5/18