Chartwells cites supply delays for food parcel fiasco

Feb 1, 2021
News story by Jane Renton
The boss of Compass's UK education arm has pointed to supply problems for the poor quality of some 500 of its school food parcels sent out to feed children at home during the new lockdown in January. Supply chain problems, particularly providing fresh items from countries such as Spain, as well as the challenge of resuming normal school-based meal services nationally, and then having to close them after only one day of operation, were behind the lapse in standards, said Charlie Brown, managing director of Compass subsidiary Chartwells when speaking about the issue publicly for the first time in an interview with Contract Catering Magazine.
"We hadn't expected to open all the schools in January and then to close them down in one day," he explained after apologising for the fall in standards to all those involved. They included Manchester United footballer `https://www.contractcateringmagazine.co.uk/story.php?s=2020-11-09-government-u-turns-on-free-schools-meals, who has set up a taskforce to ensure children do not go hungry during the pandemic, which Chartwells is involved in. "We have apologised to Marcus Rashford who was understanding," Brown added. "We look forward to working with the taskforce more to tackle issues around child food poverty."
One of the solutions to pandemic school closures was the resumption of food parcels for families with children entitled to free school meals. These also included infants in key stage one who received free meals as a universal benefit.
Some 450 of Chartwells schools opted for the food parcel service, representing only approximately 20% of all the contracts held by Britain's largest school food provider. It seems that most of Chartwells' schools preferred to discharge their obligation to fund free school meals via food vouchers, a rival but controversial scheme that has nevertheless proved popular with parents.
In the first week of its resumed school food parcel service, Chartwells supplied some 18,000 such parcels, one of which was photographed by 'Roadside Mum', the Twitter handle of a mother of young children and a highly vocal critic of the new universal credit benefit system.
The now infamous photograph graphically illustrated both the meagreness and poor quality of the parcel's contents, sparking a media furore against Compass, the world's largest contract caterer. The row comes at a critical time for the school food industry, which has spent much of the past decade rebuilding its reputation after attacks by Jamie Oliver over perceived low standards, and more recently battling chronic underfunding of its services.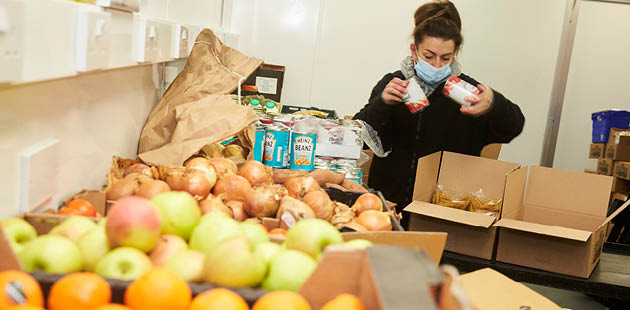 Roadside Mum claimed that the food parcel was for 10 days of lunches, and she asserted that the unedifying contents could have been purchased at Asda for little more than £5 – less than the £10.50 that Compass receives to supply each parcel and well below the £11.50 provided directly to parents from schools through voucher schemes (in this week the extra £3.50 hadn't been added by govt yet). Chartwells clarified the parcel was five days' worth of food, but was short of some items.
Brown, however, claims that his company made no profit on this particular provision at any stage of the pandemic lockdowns. "We are doing this at cost – there is no profit margin and that was the case beforehand," he stressed.
Brown said that since the media storm over its parcels, Chartwells also includes breakfast, something that is not mandated by the Department for Education (DfE), to compensate for its fall in standards. This additional cost is borne by Chartwells directly, he added.
It is not the first time Chartwells has found itself under the glare of unwelcome publicity over its food parcels. In March, the company was similarly named and shamed by a social media photograph of unedifying food parcels. 
Brown said his company was far from complacent about that earlier incident: "Our learning from March was to follow guidance from LACA [Local Authorities Catering Association] and the DfE – everything was in place to do that, but then the supply chain issue happened," he said. "Our intent was clearly there."
No charge will be imposed to schools affected by any shortage. Children in receipt of Chartwells' parcels will be offered food parcels at Chartwell's expense over the February half term, providing their schools can organise their collection.
Other measures include extra quality assurance checks at supplier level and within each Chartwell school and colleagues will now have to sign off on batches of parcels as they leave schools. Additional staff have been brought in to provide guidance and further support. There is also a helpline for concerned schools and parents. Chartwells has moved to one-week parcels in order to provide more fresh produce and will continue to innovate and add variety to its products too.
In this era of social media, where blunders and slips ups become magnified and alleged offenders vilified, Chartwells clearly intends to draw a line in the sand over the past furore. "We tend to get measured on our mistakes, but for me, I think it is more about how we get measured on our response," said Brown.
Apart from extensive apologies – to both schools and parents – Chartwells has spent much of the past 10 days talking to suppliers. The company has created a supply chain specifically to serve children with these parcels.
Thousands of reformulated school food parcels were sent out last week, with new items in them that are more accessible to home users. They also contain recipes aimed at engaging children through better nutritional awareness and involvement in the food preparation. "We have put in place a very strong response, which I think has been welcomed by many of our clients," said Brown.